Get the right TV from Marks Electrical
Struggling to find the perfect TV? It's important to make sure that the television you decide on fits your home and entertainment needs, including screen size, type and resolution.
We've created this guide to explain the difference you can expect to find between televisions and some of the factors to consider when narrowing your choice. If you have quesions, please don't hesitate to get in touch via connect@markselectrical.co.uk
View all TV's
CHOOSE THE PERFECT TV Screen Size
The first decision to make is the size of your screen. A television's screen size is the measured distance from one corner of the screen to the opposite corner, excluding the surrounding bezel. Depending on the layout and available space you have, the size of your TV screen will change your viewing experience dramatically.
A larger screen will offer more immersion and will be most suited to a home cinema setup - the big profile can, however, overcrowd smaller rooms and make for uncomfortable viewing if too close. Smaller screens are more convenient and can be comfortably viewed at closer distances, but will lack the impact that a larger screen has.
The last thing you want is the set to dwarf your living space, so this must be taken into consideration. As with any TV, the closer you can comfortably sit the better, as to capture more detail in scenes and make the most of high definition content, but below you'll find our guidelines on how far to sit in a standard setting.
RECOMMENDED TV VIEWING DISTANCES
1080p HDTV
When viewing a 1080p HDTV, you want to be sat roughly equal to 2.5 times the size of your screen away for an optimal experience. This provides the best balance of immersion, quality and comfort when viewing high definition content.
| Screen Size (Inches) | Viewing Distance |
| --- | --- |
| 24" - 31" | 100cm - 1.1m |
| 32" - 39" | 1.2m - 1.4m |
| 40" - 45" | 1.5m - 1.6m |
| 46" - 55" | 1.7m - 2.1m |
| 56" - 65" | 2.1m - 2.5m |
4K Ultra HD TV
You might think you would want to sit further away from a UHD TV, but the opposite is in fact true. The increased pixel density means that at closer distances the picture remains crisp and detailed, allowing you to sit closer without reduced quality.
| Screen Size (Inches) | Viewing Distance |
| --- | --- |
| 32" - 39" | 0.6m - 0.75m |
| 40" - 45" | 0.76m - 0.85m |
| 46" - 55" | 0.86m - 0.99m |
| 56" - 65" | 1m - 1.2m |
| 66" - 85" | 1.3m - 1.6m |
8K Ultra HD TV
If you think 4K optimal distances are close, the recommended distance away from an 8K TV will blow your mind. Even with a 65 inch set, it's close enough for most people to reach out and touch. You are unlikely to sit that close, but it is possible.
| Screen Size (Inches) | Viewing Distance |
| --- | --- |
| 32" - 39" | 0.3m - 0.37m |
| 40" - 45" | 0.38m - 0.43m |
| 46" - 55" | 0.44m - 0.51m |
| 56" - 65" | 0.53m - 0.62m |
| 66" - 85" | 0.63m - 0.81m |
WHAT IS 8K ULTRA HD
8K Ultra HD TVs
The age of 8K television is just getting started, really, and its infancy is reminiscent of when 4K first came to the fore some years ago. The jump up to a staggering 4320p resolution means there are over 33 million pixels at work, which make a stunning difference to picture quality.
Clarity is unparalleled in 8K with brightness levels that cannot be reached by anything less, for home entertainment is simply mind-blowing. Do bear in mind there is very little in the way of native 8K footage around, though. Upscaling is a necessity rather than an option with these TVs.
Browse our range of 8K Ultra HD TVs
WHAT IS 4K ULTRA HD
Quickly becoming the standard resolution for TVs to be manufactured is the 4K Ultra HD resolution of 2160p, which amounts to stunning detail and is becoming more commonplace with 4K channels, discs and gaming on the rise. The vastly increased pixel density allows for far more detail in content that outputs in 4K, with less-noticeable pixelation on images and an overall improved level of quality. If you're looking for the best picture available, a 4K television is a must-have.
Browse our range of 4K Ultra HD TVs
A feature of most mid and high-range 4K Ultra HD televisions, an upscaling feature works to analyse and adjust any content being output below 4K resolutions, actively improving contrast, clarity and overall quality. Each manufacturer uses different methods to achieve this technique and the results can vary between brands. If you watch a lot of sub-4K content, ensure that your chosen TV has upscaling features to get the best quality possible.
HD READY & FULL HD
HD Ready is a near-high definition format that outputs content at 720p resolution, offering an improved picture quality over standard resolution. Full HD outputs at a 1080p resolution and is capable of displaying high definition content in full. Full HD is the current industry standard resolution, with many broadcasts and peripherals (such as Blu-ray or games consoles) delivering high definition content.
Full HD remains the most common vehicle for over-the-air programming, too, so remains a popular choice as a reliable method of viewing. Most households contain still televisions at the resolution, so it's not become out of date just yet.
MINI LED, LED OR OLED
LED
The majority of televisions use a combination of LED (light emitting diodes) and a liquid crystal display for colour, contrast and clarity. The backlighting systems are either edge lit, direct or full array, with frame or local dimming systems to control luminance levels. Colour purifiers within the LCD panel and the capabilities of HDR (high dynamic range) are also called upon to deliver detail in some of its purest forms.
Browse our range of LED TVs
OLED
OLED (organic light-emitting diode) TVs are mostly manufactured by LG at this point in time, though some other brands have put OLED televisions to market in the past. OLED differs in that each LED is self-emissive, meaning that it creates its own source of light. Individual LEDs can be turned on and off as needed, resulting in black levels that are unattainable by competing screen technologies. OLED is a superior technology over LED, but the complex manufacturing process pushes costs to higher levels.
Browse our range of OLED TVs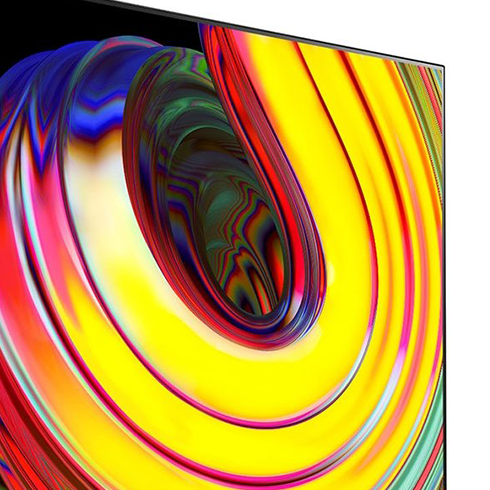 MINI LED
The main difference between Mini LED and OLED/QLED is the LED backlight. Mini LED TVs are packed with lots of mini, hyper-focused LEDs that are engineered to be only 1/40th of the size of standard LEDs. This makes it easier for the TV to precisely dim and brighten up different areas of the picture on the screen. This means you won't have to put up with blurry bits of light seeping through the screen, which delivers intense blacks and more realistic colours than ever.
TCL is the first manufacturer to launch Mini LED TVs and also the first to launch OD ZERO Mini LED. TCL OD Zero Mini LED TVs has reduced the distance between the backlight and LCD display to an astonishing 0mm. Not only does this mean that the TVs are slimmer, you get fine-tuned brightness and sharp contrast for a knockout picture that'll give the cinema a run for its money.
Browse our range of MINI LED TVs
Viewing Angles
The viewing angle of a television is dictated by the type and quality of the display used, but many TVs now utilise specific technologies to ensure that picture quality isn't compromised by watching from an off-centre location. In-plane switching, for instance, is a 4K innovation where an IPS panel is horizontally aligned and can rotate when impacted by light.
That switches the molecules in the LCD layer to expand the field of vision, with some screens containing functions like an eco sensor and a black filter to consider outside elements such as the sun.
Backlighting Systems
Every backlighting system on a modern-day television call upon LEDs to illuminate their screens. QLEDs combine this with a metallic quantum dot filter, while OLEDs possesses organic matter. Other TVs can be edge-lit, which positions a row of LEDs on either side of the set, or direct, where the LEDs are straight behind the screen.
The brightness is controlled by either frame dimming, which controls the entire image at once, or local dimming, that group cluster of LEDs into zones. OLEDs are not LCD televisions, so have no need for a backlighting system as illumination is one-by-one, with individual dimming.
Then there's direct full array, where the rows of LEDs that an edge-lit model would possess are all over the LCD display.
HD READY & FULL HD
HDR (abbreviated from High Dynamic Range) is a content format, which first originated in photography, and has become a trusted source to enhance the colour spectrum and boost brightness levels.
Content shown in HDR will appear richer and more vibrant, with vastly improved contrast and brightness in images. This is thanks to the larger amount of picture information that is transmitted to the television. TVs must be capable of receiving, interpreting and accurately displaying the increased signal to be deemed HDR compatible.
Hybrid Log Gamma (HLG) has an HDR-like influence on live broadcasts, by quickly adapting to and replicating light displays as they change, without requiring dynamic metadata.
Not all HDR televisions are equal, however, so the Ultra HD Premium rating has been created by the UHD Alliance to create an industry standard. If you're unsure whether a TV is truly capable of delivering HDR content, look for the Ultra HD Premium logo (as shown).
ULTRA HD PREMIUM
The Ultra HD Premium specification sets a standard of quality televisions must meet to be awarded the logo. There are a number of areas TVs must excel at to ensure they can display HDR content in full.
3840 x 2160 (or greater) resolution: Displays must output at a minimum resolution of 3840 x 2160, more commonly known as 4K Ultra HD. An 8K picture goes up to a whopping 7680 x 4320 pixels.
10-bit colour depth: TVs must be capable of processing and displaying 10-bit colour signals, which equates to over one billion unique colours. In comparison, the current standard of 8-bit colour only shows around 16 million colours.
BT.2020 colour representation: This signal input method alters from what is used on Full HD televisions, allowing for yet more colour variation and a wider gamut.
90% P3 colour representation: Ultra HD Premium TVs must be able to display 90% or more of the RGB colour space. In peak brightness and black levels, displays must be able to reach either 1,000 nits of brightness and 0.05 nits black or 540 nits brightness and 0.0005 nits black to meet criteria.
Once a television has been tested and shown to meet all the above specifications, it will be granted the Ultra HD Premium logo as a sign of true HDR capability.
DISCOVER SMART TV
Smart TVs
Any television that is capable of connecting to the internet and providing additional functions can be considered a Smart TV. This performs many computer functions such as having a user interface, internet access and an operating system capable of running downloaded apps.
Typical features include access to on-demand content (through either content stores from the manufacturer or apps from various providers), social media functions (such as Facebook and Twitter), various internet browsing and search mechanisms, picture and sound modes plus the ability to control connected devices. Certain brands of televisions even come with additional features to give you more control. LG, for example, has a voice-controlled remote that makes navigation intuitive.
They have been designed to help you make the most out of your home entertainment. Sleek interfaces (unique to each manufacturer) that are simple to use, a range of services to provide alternatives to traditional scheduled programming and an overall more robust user experience with your TV.
Total Control with Smart Remotes
To keep up with the advancing technology of Smart TV, the classic remote has undergone a number of improvements. Features vary between manufacturers, but many offer motion, gesture, voice and touch control, making new technology that much simpler to use.
Considerations
While a Smart TV is a superb addition to any home, there are some caveats to think about. Firstly, you will need a consistent internet connection to make use of the features. Most TVs are equipped with built-in WiFi, so simply latches on to the service provider wirelessly.
Some televisions can also pair the set with a smartphone, tablet or even a third-party voice controlled device, such as Google Home or Amazon Alexa.
Internet speed is a big factor to how successfully you can stream high definition or Ultra HD 4K content, so it's important to be sure you have a fast enough connection to support what you want from your Smart TV.
There is no set standard for how a Smart platform should look or operate, so you may find that you prefer certain manufacturers for their implementation of Smart TV. Additionally, certain apps, such as Netflix, require a subscription to function correctly - make sure you are comfortable footing the added cost of features.
Google TV
Google TV brings together movies, shows, and more from across your apps and subscriptions and organizes them just for you. More than just a TV, your Google TV is more helpful than ever. Use your voice to find movies, stream apps, play music and control the TV. Ask Google to find a specific title, search by genre, or get personalized recommendations by saying, "what should I watch?". You can add to your Watchlist right from your phone, so your recommendations are always up to date.
What's more you can ask Google about the weather, sports scores, and more, and get answers right on screen. View and control your compatible smart home devices using your voice. Just say "Hey Google, dim the lights" to turn your living room into a theatre, and manage tasks like adding popcorn to your shopping list without picking up another device. Create Kids profiles that help you guide kids to age-appropriate content, in a space that's all their own. Set kid-friendly filters for apps, movies and shows. Limit how long they can watch and easily set bedtimes.
SOUND QUALITY
As efforts have gone into creating slimmer, more affordable televisions that scale with the increasing demands of Ultra HD quality, HDR content and smart functions, another aspect of the home entertainment experience has also undergone significant changes.
Sound processing has become more precise than ever, with various audio functions now able to replicate and simulate effects that belie the television's speaker system. That said, there's still only so far built-in speakers can take you and, if they're still insufficient, call upon an external set-up to bring some added punch.
Sound Bar
The most direct upgrade for your TV is a quality sound bar. Positioned below your television itself, it will produce room-filling sound with more clarity, precision and tone than TV speakers will be able to. Sound bars don't take up a great deal of room but can typically lack the power to drive really convincing bass tones. A subwoofer can go a long way to rounding it out.
View all Sound Bars
Home Cinema System
A home cinema system places multiple speakers and a subwoofer in one large room. Speakers are typically situated around the room, providing true surround sound experiences. Home cinemas are incredibly powerful and will deliver potent audio when it counts. The installation and space can be a deterrent, so you'll need locations for all of the speakers.
View all Home Cinema
FAQs
Do I need a digital aerial to watch terrestrial channels and over-the-air programming?
Yes and no, depending on what it is you're trying to do. Older versions of free-to-use services, such as Freesat and Freeview, will still require an aerial. Freesat uses satellites to deliver content, providing good coverage and reception throughout the UK. There is a great deal of channels available, including a selection of high definition channels too.
Some newer alternatives such as YouView won't work without an aerial, either, but perform the same as any other app when connected. Video streaming services such as BBC iPlayer, the ITV Hub, All4 and My5, of the traditional channels, have you covered either way.
Which brand do I choose?
Every brand of TV offers something different. The best method of choosing is to try them out yourself, explore the Smart TV platforms, do your homework on the picture aspects in use and see which you feel fits your home the best. Television technology has come so far that it's difficult to give a clear winner to any of the current dominant brands.
Do I need a Smart TV to enjoy on-demand content?
No, you don't need a Smart TV to get on-demand content from the comfort of your living room. There are many devices, such as games consoles, set-top boxes or streaming sticks, that can also provide smart features for your TV.
The convenience and robust nature of Smart TV platforms from top brands such as LG, Samsung and Sony are housed directly in your television and save on the need for additional peripherals.
Should I buy a Full HD or 4K Ultra HD TV?
This largely depends on what content you consume. If you watch a lot of scheduled programming, a Full HD TV is a superb choice. There are currently very few 4K TV channels broadcasting yet, except for sport, but they are growing. Until that becomes the norm, you'll need a TV that is adept at upscaling, so that lower definition content can be sharpened to 4K quality or thereabouts.
If you are a fan of films, football, on-demand services or the latest technology, a 4K television is the best pick. As they are often newer models, access to the latest connectivity, including HDMI 2.0 and USB 3.0, ensures that new gadgets are fully compatible in the future. Additionally, on-demand providers are already starting to stream 4K content as a part of certain packages.
What TV is best for gaming?
It is best to pick a television that has a lower input lag rating for gaming use - the less input lag a TV has, the quicker inputs from your controller are shown on-screen, giving you more precision.
We test our televisions for their gaming performance using a Leo Bodnar Input Lag Tester. See our Gaming TV page for more information about choosing a TV for gaming, as well as our handpicked selection of the best models.
Talk to us!